Cold Laser Healing Therapy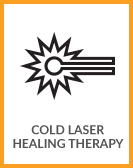 When many hear Dr. Howard Dennis and his Elizabethton Chiropractic team speak of cold laser, they think of surgery, the things space movies are made of, even radioactive materials or ionizing radiation. Nothing could be further from the truth. The meaning used here is to represent energy movement, an energy transfer, and transmission. However, you probably did not think of it as a healing therapy for your body. We know how much pain interferes with your everyday life. We know how important it is for you to find non-invasive methods to relieve it. You may be wondering how a laser treatment therapy could have the ability to do such a thing as actually help your body heal itself? What does Cold Laser Therapy do? Studies have been performed on this technique since 1967 showing the benefits of pain relief through Cold Laser Therapy. The best thing about this ground-breaking technique is that it's simple, it is effective and most of all it is safe.
The way that this laser therapy works is through small laser lights positioned at specific areas of the body by Dr. Howard Dennis or one of his Elizabethton Chiropractic Therapy Assistant team members. The treatment on the areas will last approximately anywhere from between 10 to 15 minutes. The lights emit specific wavelengths of light that are passed through the layers of the skin to penetrate to the cell level. The light emitted reacts with the cells increasing ATP (similar to the process of photosynthesis found in plants) which helps to stimulate the body's energy to heal the damaged area by increasing the cell regeneration process increasing the speed of healing.
Dr. Howard Dennis or one of his Elizabethton Chiropractic Therapy Assistant team members use Erchonia Low Level Laser for their cold laser therapy treatments. Erchonia is one of the most trusted brands of Cold Laser therapy that has been around since 1996. It's also one of the worlds most researched 3LT Lasers. It also has been tested and approved for treatment by the FDA (Food and Drug Administration). New treatments for Cold Laser therapy are always being tested by Erchonia to help with an even wider range of issues that our patients experience in their daily lives.
We here at Elizabethton Chiropractic and Dr. Howard Dennis use the Erchonia Cold Laser or Low-Level Laser Therapy to help treat many areas of pain, discomfort and injury, both acute and chronic. Just a few of the conditions that can be treated with cold laser therapy are chronic neck and shoulder pain, low back pain, neck pain, arthritic knee pain, plantar fasciitis, heel pain, tendonitis and even more! The great thing about this therapy treatment, is that it can be done almost anywhere on the patient's body. With the two long flexible arms of the laser, the laser heads can be placed on two separate locations of the body. For instance, you might be having pain in your shoulder and neck. The arms will be strategically positioned on both the areas of pain and will stay in that position thanks to its adaptability.
One especially good aspect of cold laser healing therapy with Dr. Howard Dennis and his Elizabethton Chiropractic team, is the fact that proven research has been done on both acute and chronic pain. It has been proven safe and effective to help treat neck and shoulder pain. Also, there is no need to worry about any kind of discomfort when the Low-Level Laser Therapy treatment is being performed on you sitting or lying. The therapy is pain free. You can just relax throughout the treatment.
Dr. Howard Dennis and his Elizabethton Chiropractic team understand that most people see lasers as light only and not for a healing method. That's why it's one of our primary purposes to treat and educate as many families as we can. The difference between the Low-Level Laser and a simple LED light or heat lamp, is the fact that the laser penetrates through the skin to the cellular level. The laser emits constant or pulsed light waves into the skin, which aids the body in the following manner, to help reduce pain, inflammation, swelling, decreasing spasms and increasing functionality. Some patients after treatment have even shown an increase in the range of motion and strength of the affected area of the body. Even though you as the patient may not visibly see any improvement in the body after a treatment, the benefits and transformation is taking place inside the body. Even though some have reported feeling an immediate change in the way that they feel after a treatment, do not be discouraged if you do not feel this same immediate clear benefit. Sometimes, the difference may not be felt until after you have been to the office and had several low-level laser therapy treatments. As mentioned earlier, the benefits are at the cellular level and healing takes time so it is not uncommon to not see any differences immediately.
If you, a friend or a loved one is struggling with debilitating pain and loss of function, don't put off getting checked out by Dr. Howard Dennis and his professional team at Elizabethton Chiropractic. Life is too short to get robbed of quality play time with your family. Not being able to be at your best at work, the physical and mental price we pay for not being able to exercise due to pain can get you stuck in a rut. When problems like the ones we have mentioned are not treated, they don't stay the same. They get worse. This pain and lack of joint movement leads to long term adhesions in joints, inflammation and even brain dysfunction. What about that?
Do not let pain control your life. Why not visit Dr. Howard Dennis and his professional team at Elizabethton Chiropractic? See if one of their ground-breaking pain relief methods like cold laser healing therapy could help you. Many have made this same choice and are enjoying the benefits of healthier living today! Cold laser healing therapy is performed in a comfortable setting. It is efficient. It is effective. It is affordable. So, if you are struggling with low back pain, leg pain, degenerative arthritis pain, sciatica, carpal tunnel syndrome, arm pain, shoulder pain and neck pain, Call us now at 423.542.3337. Schedule your Free consultation today.