Whole Food Supplementation & Weight Loss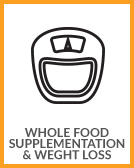 Dr. Howard Dennis at Elizabethton Chiropractic has been passionate about nutrition since 1982 after he picked up his first set of weights and a copy of Muscle & Fitness Magazine.  Since then, healthy eating, whole food nutrition & micronutrients have been a passion for him and his team. They still believe in giving proper nutrition to the body, and the body has the ability to heal itself.  Proper eating, exercise, Elizabethton Chiropractic care, proper attitude and high-quality whole food supplements are keys to healthier living.
Dr. Howard Dennis and his Elizabethton Chiropractic team understand that even eating the best of diets in today's fast paced, processed world can't consistently meet all of our nutritional demands. That's where high-quality whole food supplements loaded with micronutrients in their natural form fill our nutritional deficiency gaps that our daily diet doesn't meet.
Dr. Howard Dennis at Elizabethton Chiropractic understand that the food supplement industry is largely unregulated so many companies can be vague on how they make, grow their products and if the content is nutritionally at a quality level.  For this reason, this brings us to the Disclaimer. All of these statements have not been evaluated by the Food and Drug Administration. All of these products are food supplements designed to supplement the diet and support normal physiology and biochemistry and are not intended to diagnose, treat, cure or prevent any disease.
What exactly is a whole food supplement?  Whole food supplements are complex ingredients from plant and animal extracts, desiccates and other ingredients that are prepared in a specific way organically to safeguard their nutritional value.  This is why Dr. Howard Dennis and his Elizabethton Chiropractic Team use for the most part Standard Process and MediHerb products as their cornerstones of their whole food supplementation program. Quality standards matter. Just because some vitamin or supplement says it's natural, from nature or has an earthy name doesn't mean its organic, whole food or been put together in the best way.
Dr. Howard Dennis and Elizabethton Chiropractic have found the Standard Process company to be transparent and authentic. Standard Process leads the food supplement industry. Their whole food supplements are distributed by Primary Care professionals like Dr. Howard Dennis.  You can even check Standard Process out online or go visit their farm which is highly recommended to fully grasp their natural organic processes to bring you some of the best whole food supplements offered by Dr. Howard Dennis today.
Dr. Howard Dennis and Elizabethton chiropractic are all about a healthy musculoskeletal system and a healthy nerve system.  We rely on these organic whole food supplements for aiding our ability to move properly while providing support, function, form and stability to our body.  Pain and lack of function can create a huge stress physically and chemically on our bodies while impacting our mobility and freedom.
Dr. Howard Dennis at Elizabethton Chiropractic offers MediHerb and Standard Process as their mainstays for herbal and whole food nutritional supplementation for acute musculoskeletal health, maintenance of bones, nerves, muscles, joints and supporting tissues affected by injuries or sudden athletic related demands. These whole food supplement products have natural bone proteins, high-quality extracts and flavonoids from Kudzu, Red Clover, Epimedium, and Black Cohosh for strong bones.  Also, they offer nutritional compounds for formation and maintenance of skeletal tissue, healthy fluid levels, repair and long-term management of connective tissue.
The Elizabethton Chiropractic team and Dr. Howard Dennis offer for example, Ligaplex II from Standard Process for long term joint support to maintain a high active lifestyle. Ligaplex II is a whole food supplementation product that supports connective tissue, formation and maintenance of bone, healthy fluid levels and healthy joint repair. It contains proteins in nutritional yeast, has a complex of B vitamins for the body's repair and supports the normal heart and cardiovascular system with an exclusive formation of minerals, nucleotides and peptides. It also has qualities like Catalyn which has a great overall cover your bases support like a multi whole food supplement all in one.
An example of long term joint support on the MediHerb side that Dr. Howard Dennis at Elizabethton Chiropractic recommends is Boswellia Complex. This also helps patient members maintain a high active lifestyle. Boswellia Complex has phytochemicals, coumarins, Ginger, Turmeric, Celery Seed and gingerols for cartlidge integrity, antioxidant activity, healthy circulation, normal kidney function support and inflammation response management. The Boswellia part of this complex contains 180 mg of boswellic acids per tablet. The Turmeric part of this complex contains over 70 mg of curcuminoids per tablet.
Dr. Howard Dennis and his Elizabethton Chiropractic Team offer many whole food supplements for gastric healing support, too. You know 80% of our immune system is in our gut so we ought to take care of it. Gastrex is one of our show off products in our office that does great for quick relief of gas, bloating and burning in the digestive tract. Gastrex combines tillandsia with extra stomach and duodenal healing support with okra which acts like a mucous band-aid. For deep stomach relief, Chlorophyll Complex with fat soluble chlorophyll extracts for digestive tract healing support or Okra Pepsin E3 for bowel mucous and inflammation support work great.
Digestive Enzyme Support without Betaine HCL can be accomplished with Standard Process at Elizabethton Chiropractic. Multizyme which has pancreatic enzymes from pineapple and papaya. Enzycore is a vegetarian enzyme source which has the highest glutamine content for gastrointestinal healing. We use HiPep through MediHerb which coats the gut lining by using deglycerrhizinized Licorrice root, chamomile flower, meadowsweet herb and chamomile. This does this without negation of our good stomach acids and inhibits helicobacter pylori overgrowth which cause gastritis or ulcers. Prescribed stomach acid medications negate good and bad acids both which leads to malabsorption of nutrients and nutrient deficiencies.
More synergistic combinations at Elizabethton Chiropractic are recommended by Dr. Howard Dennis. Nerve support synergy with Neurotrophin PMG and St. John's Wort especially with all the head and brain injuries in motor vehicle accidents, falls, soccer, football and other head injury incidents. These provide uniquely derived nucleoprotein-mineral extracts that support cellular health of the nervous system.
Dr. Howard Dennis and his Elizabethton Chiropractic Team never cease to be amazed at what a diffence in health can be made with the right whole food nutrients & great Chiropractic care at Elizabethton Chiropractic without the harmful side affects. Bowel regularity, blood sugar stabilization, calming affects, adrenal support, breathing support, immune system support, cholesterol management, cardiovascular support and oh so much more to discuss here than we have time. That is why you need to discuss your healthcare needs with Dr. Howard Dennis. We are here to help serve you! Got Pain? Call us at 423.542.3337 Now. Schedule your Free consultation today.